What is the Magic Carpet?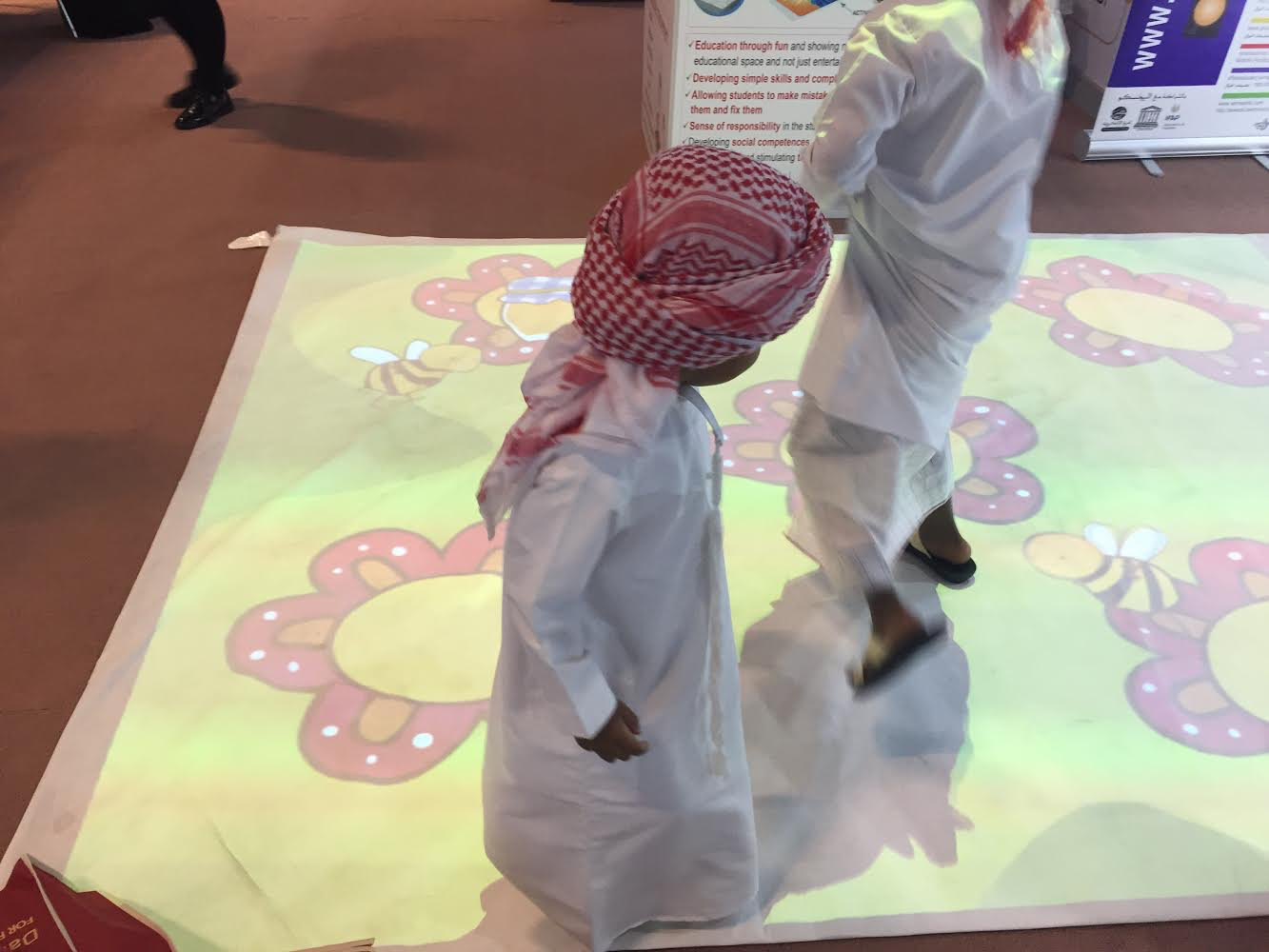 The dream of every parent is to see a happy, smiling and laughing child.
The Magic Carpet guarantees great satisfaction and joy, faster physical development, improvement in the children's relationships and cooperation, in line with tremendous improvement in education and rehabilitation.
We can guarantee your child smile and happiness!
More technically, the Funtronic's Magic Carpet is an interactive projection tool that is simultaneously an interactive floor and table, being a didactic aid designed for exercises, games and all motion-based activities together with a set of multimedia content intended for children of pre-school and school levels (3-12 years), as well as for rehabilitation of adult people and the elderly.

The Magic Carpet combines a computer, a projector and a motion sensor system that allows real-time play on any part of the floor or table. The device's interactivity consists in making movements by the user. Thanks to this device is great as an interactive didactic help. Light animations shown on the floor or table, react to movements of hands and legs. It is also a multimedia didactic help, because by activating the visual and auditory stimuli, it activates many senses at once. Interactive teaching aids using new technologies are an effective way to conduct interesting activities for children. Teaching aids in the form of a Magic Carpet together with games are a combination of learning and physical activity of students. The implemented games allow to educate children of all ages. Learning through play can simultaneously play an educational and therapeutic role.
The system of motion sensors
A Magic Carpet, as the only Polish device of its type, meets all safety requirements in the lack of employing any elements that can be potentially hazardous for children using the interactive floor, like movable guides and mirrors, overhung cables and wires.
The technological process is provided with ISO 9001. A Magic Carpet is provided with the guarantee of 2 years or 4000 working hours, whichever comes first.
Remote controlling
A Magic Carpet provides a wide range of work and fun. It is a PLUG&PLAY device. It contains all the elements essential for its proper work, like motion sensors, a projector and a computer, in one unibody.
For its correct operation and functioning it requires no peripherals. It is supported by just one remote control.
Active Field
A Magic Carpet is integrated with about 250 exercises, games and motion-based activities designed for children of pre-school and early school levels:
FUN-a set of 100 games and motion-based activities designed for children of pre-school and school ages as regards development of children's motility, aural-visual coordination, perception, and a reaction rate.

REH -a set of 45 games and motion-based activities designed for children of pre-school and school ages as regards rehabilitation and therapeutic activities (education engaging children with special needs).

EDU -a set of 80 games and motion-based activities designed for children of school ages as regards educational activities by subjects (KG- Grades 1-6).

ENG - a set of 9 games and motion-based activities designed for children of pre-school and school ages as regards English education.

EXECUTIVE FUNCTION (PROMYK) - The Executive Functions Development Stimulation Programme is an attractive alternative to traditional forms of therapy and support of the child's development. The programme has evolved on the basis of an innovative concept of the work with a child described as the Integration of Executive Functions, that focuses on resources of the child (in the area of the closest development), not the deficits. The teacher or a therapist does not teach and provide ready solutions, but instead they stimulate a child to seek for their own solutions.
A Magic Carpet provides the possibility of enriching the content of the games by remote software upgrading via the Internet.
Benefits of the EDU Package for children
- develops large motility through a variety of motion exercises
- has a positive effect on the interactions between children and prevents from alienation
- organizes a great time in the after school club and during school breaks
- combines learning and fun using elements of gamification
- has a positive effect on the concentration of students
- supports the implementation on the core curriculum for ICT
- includes package of educational games and activities tailored to the core curriculum
- forms the habit of repetition and strengthening the knowledge
Safe innovations of space arrangement
A Magic Carpet as an interactive projection tool that is simultaneously an interactive floor and table give a wide range of possibilities of its use in diverse spaces and areas.
The fusion of fun, education, and rehabilitation based on the MOVE proves to be an ideal solution in all didactic, therapeutic, and social areas:
Didactic Areas:
Classroom – an idea for pleasing and smart educational classes
School corridors – a remedy for boring and dangerous breaks
School clubhouses – attractive alternative for extracurricular activities
Education
Therapeutic Areas:
The room of world experiences – an essential help for a successful therapy with different disabilities
Centres for aged people – a pleasing therapy for the elderly, suffering for example from dementia
Interactive floor as a tool for effective rehabilitation
Social Areas:
Museums – an innovative insight into history, culture and art
Shopping malls – social interactions are no longer restrained just to doing the shopping!
Children's playing parlours and Tots Clubs – multimedia can be healthy and safe!!!
Hotels
Business
We are pleased to announce that we have a new FUNCODING package, which develops among the youngest skills and competences necessary in the programming process. From now on, children through play and movement will be able to exercise logical and analytical thinking. For students of all ages, the FUNCODING has been prepared in three versions:
1. Pre-school education - preparation for programming and learning the coding language,
2. Early school education (classes I-III) - familiarizing with the basics of creating algorithms,
3. Primary school (grades IV-VIII) - creating more complex codes and the ability to edit games or create your own.
In each age version we find 5 educational games created according to the scenario of the best software specialists. In addition, by deciding to purchase the FUNCODING package, teachers receive a full set of classroom instruction (including classroom scenarios) using the Magic Carpet.
MOVEMENT MAGIC for Autism has landed!
The new 15 games help in rehabilitation, education and revalidation for children and adolescents suffering from various deficits. The presented games correct, stimulate distorted perception, improve motoric functions, introduce somatognosia (orientation on a body diagram) and orientation in space, as well as give a chance to regulate emotions and express them. Using the Funtronic Floor encourages the child to act independently and beat another difficulty levels. The distinctive colours and homogenous, bright backgrounds of the applications serve the purpose of not distracting but focusing attention on the actual activities. The transparency and accessibility in sound receipt or the option of adjusting it are a clear advantage. All the active elements are slightly bigger, the dynamics of the game was slowed down in order for the child to have enough time to achieve success. The applications have two difficulty levels to choose from, so that everyone, regardless of their deficits, can adjust the level to their individual abilities. A very important motivational point is introducing a prize for the participants after a successfully completed task (applause, clapping, smile). Part of the application was designed in vertical direction in order to prolong the movement of the elements on Funtronic Floor, which prolongs the time of attention focus. Since the child has more time to complete the task, the chance of achieving success, for which there always is a prize, is increased. Funtronic Floor supports designing education and revalidation workshops. Properly designed games are a perfect education-revalidation-rehabilitation tool in Sensory Rooms, nurseries, kindergartens, school common rooms, outside the school, therapy- and playrooms, stimulating the senses and teaching the participants of the game creativity, independence or cooperation. The package supports:
Improving the eye-hand perception,

Motoric development (fluidity of movement),

Lowering or intensifying muscle tension

Strengthening the feeling of responsibility, self-esteem,

Introduction of somatognosia (orientation on a body diagram)

Integration of senses,

Correction and stimulation of distorted perception,

Skill in the field of regulating emotions and expressing them,

Creating a chance of optimal, universal development for the children.
EDU PRESCHOOL has landed!
Edu Pre-school package is an innovative solution which stimulates the process of learning for children in pre-school age (3-6 years) based on new technologies and the Funtronic Method. The package is designed to fulfill the four fields of core curriculum for pre-school education: physical, social, emotional and cognitive fields. The package includes 16 interactive games, exercises and educational situations designed for activities involving the Funtronic Floor, as well as the description of their methodical